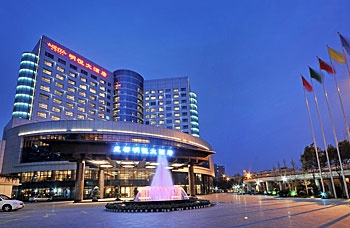 The Chengdu Minya Hotel (Mingyue Dajiudian) is conveniently located on Yongfeng Road. It is just a 15-minute walk from bustling Chunxi Road and Tianfu Plaza.
This 5-star Chengdu hotel offers elegantly-designed rooms equipped with mini-bars, in-room safes, broadband Internet access, international direct dial phones, voice mail and satellite TVs.
Guests dining in at the hotel have an Italian restaurant on the 1st floor and a Chinese restaurant with 13 private dining rooms specializing in Sichuan and Cantonese cuisines to choose from. There is also a café available for those looking to dine in a more intimate setting.
Guests looking for fun can enjoy themselves in night clubs, aquatherapy rooms, the indoor swimming pool and the hotel massage center.